INJECT A LITTLE LOUD NOISES
INTO YOUR WEDDING!
Playing between 50 and 100 weddings a year, Loud Noises are as equally at home on a wedding stage, as they are on those of international festivals.
When you book Loud Noises for your wedding, you get so much more than a "wedding band".
Taking the songs loved by YOU and your guests, and transforming them into high-energy, dance-infused anthems, guests of all ages rise to their feet, camera phones aloft.
Travelling up and down the country, beyond, and as far as Portugal, to help couples create memorable moments to last a life time, Loud Noises are seasoned music professionals, each with thousands of weddings under their belts throughout their careers. You're in safe hands here.
So, you want to book Loud Noises for your wedding? – Perfect!
Committed to providing the most memorable experience possible, Loud Noises offer a number of options
to bride-and-grooms-to-be, to help tailor the experience further.
Offering more than just 90 minutes of unrivalled musicality and showmanship (most commonly split into two 45 minute sets, with a break in the middle),
the options available are as follows. With Loud Noises, if you can dream it, it can happen!
First of all, the acoustic nature of the instruments used by Loud Noises means that they can perform to audiences of all sizes acoustically,
whilst of course, offering an amplified option too.
Option 1 – Acoustic or Amplified?
While opting for the Amplified service will ensure your guests are treated to the very best immersive music experience,
with the finest sound quality, Loud Noises play many weddings acoustically, aided by the natural volume of brass instruments and drums.
Acoustic or Amplified, Loud Noises will work to create the very best experience for your guests, creating unforgettable memories.
Chose Amplified?
Option 2 – Venue PA System or PA Supplied By Loud Noises?
Armed with the very best in wireless microphones to ensure their amplified performances are no less audience-interactive,
opting to book Loud Noises with their own PA will enable the band to deliver the very best sonic experience for you and your guests.
If an amplified set is what you desire, feel free to check with the venue hosting your special day, to see if they have a PA system,
and if it's appropriate for a band scenario. Loud Noises can provide their Electro-Voice ELX200-15P PA system, with two 15″ speakers,
to ensure the very best quality of sound and the best live mix.
Scroll down to select any wedding-extras!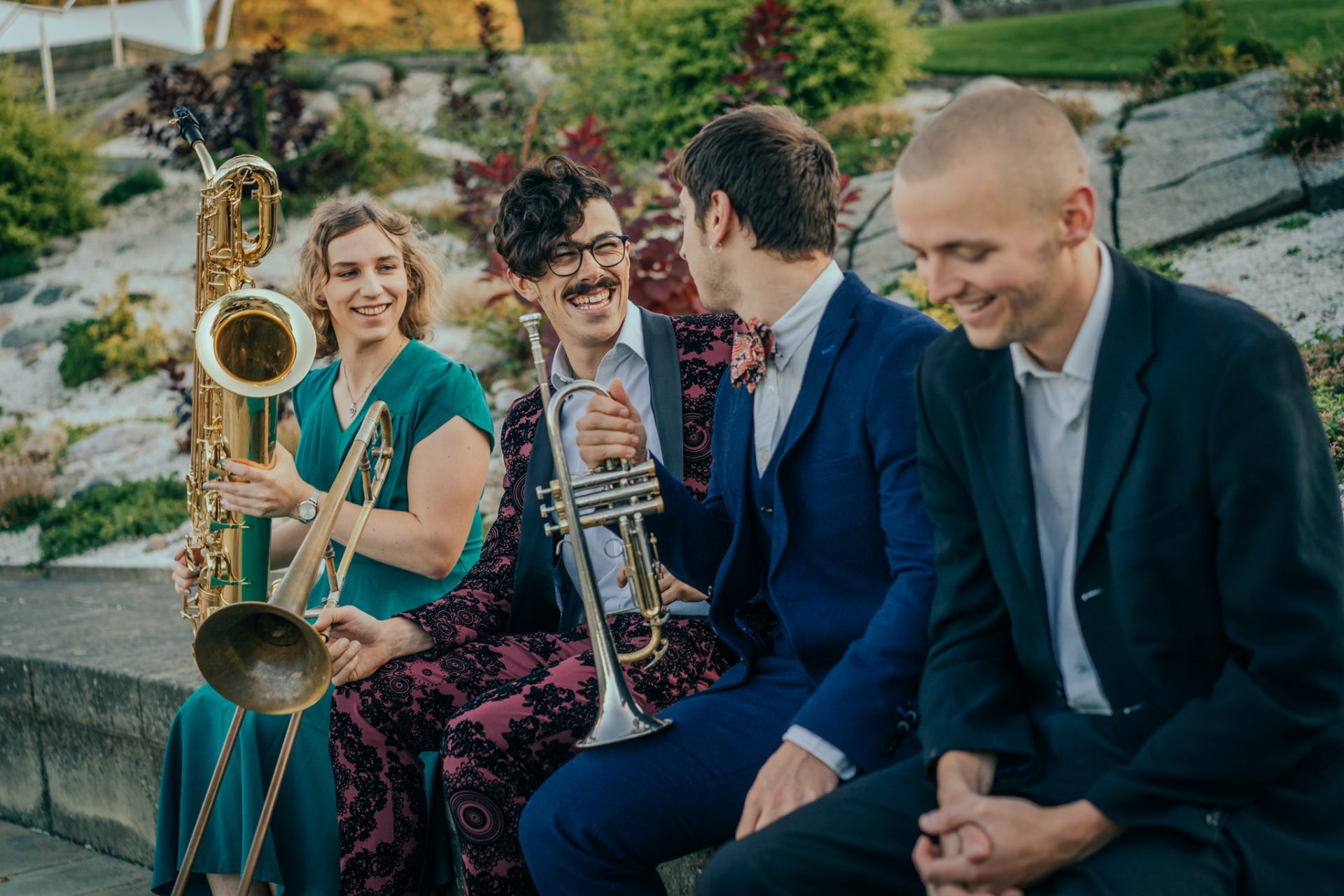 Extra 1 – Rent the Loud Noises PA System for Your Own DJ Service
Or Choose the Loud Noises DJ Service
Hiring a DJ, as well as a band, can be an enormous expense.
Thanks to this Extra from Loud Noises, the music need never stop, without breaking the bank.
Want to play DJ yourself? No problem! Hire the Loud Noises PA system for before/after/between the band's performances,
and pug in your iPad, iPod, Phone, Mobile or Laptop to fill the night with the music YOU love!
Alternatively, members of Loud Noises will man the PA all night, and take care of DJ duties,
offering a significant saving over hiring both a band and separate DJ.
This band are all about bringing the party, you're in safe hands.
Extra 2 – Lighting
Opted for the Amplified service?
Why not hire the Loud Noises lighting rig for the ultimate visual experience?
Extra 3 – Parade
 Taking the tradition of New Orleans Street Parades and Mardi Gras, and giving them their unique twist,
the Loud Noises Parade option is incredibly popular with bride-and-grooms-to-be, especially in the warmer months.
Loud Noises can parade you from the church to the wedding venue
They can play you down the Isle
With a roaming drum set, Loud Noises can parade you to the stage
The band can even surprise you, popping up outside the church
Got Some Ideas?
Send Loud Noises an email below. If you can dream it, it can happen!
To enquire about Loud Noises playing at your wedding, to receive a quote,
to ask any questions, or to go right ahead, click the button below.
Please include:
The date of the wedding
The desired times of the band's performances
The location of the wedding